Admin and Staff:
Admin:
Create a paid event using Eventbrite
Publish it to Facebook using the "Manage" tab
Add a public affiliate program and offer 10-20% of ticket sales
Admin & Staff:
Find the event on your company's fan page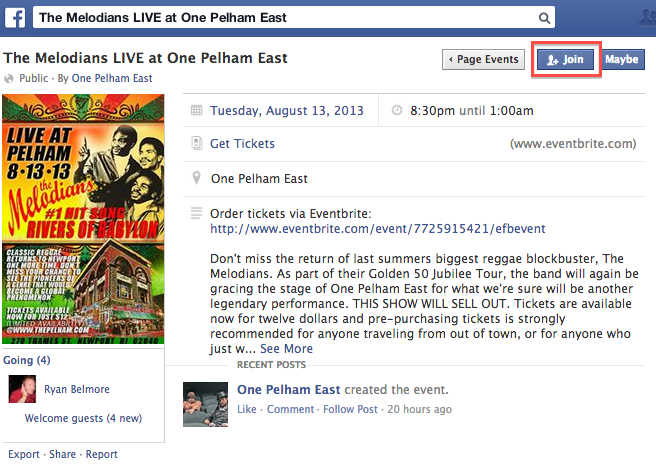 When you join an "Invite Friends" button will show up, so click it

Click the "Search by Name" button and scroll down to "Newport, RI"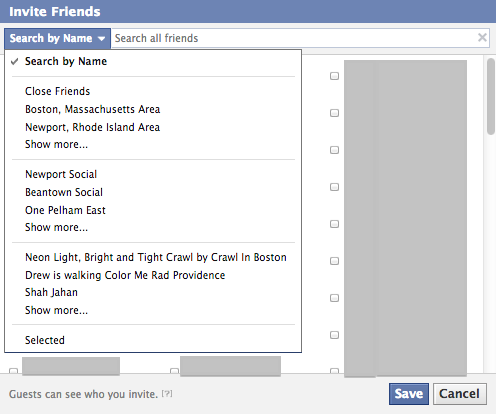 Scroll all the way to the bottom of the list. Facebook will take it's time populating all of your friends
Click the black and white checkbox located on the chrome toolbar

Then press "Save." You may have to enter a "Capcha" to prove you're a human
Admin:
Give certain staff "Content Creator" privileges on your fan page
Admin & Staff with privileges:
Take photos and video and upload them using the Pages Manager in real time

Pre-event, find videos and photos of the band and post them to the event page

If you have Twitter, tweet to @

OnePelhamEast

 when you're at the event
After the event:
Export your email addresses into MailChimp
Send weekly emails to past attendees or email signups with the weekly bands
Work to grow your mailing list by making it easy for visitors

fill out a short form by visiting a link
or by scanning a QR code
Is this too much? Would you like to have x10industries share your event with up to 3,000 New England locals? For only $99 an event, we will set up your event on Eventbrite and Facebook and invite our masses! Contact us using the form below.