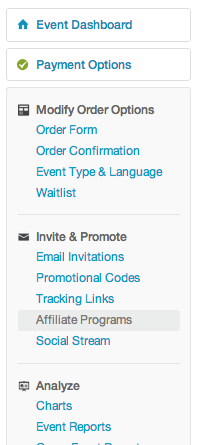 So you've got your event published through Eventbrite.. and you've created an affiliate program for your employees or random affiliates.
Here's how you go about showing your own internal promotional program: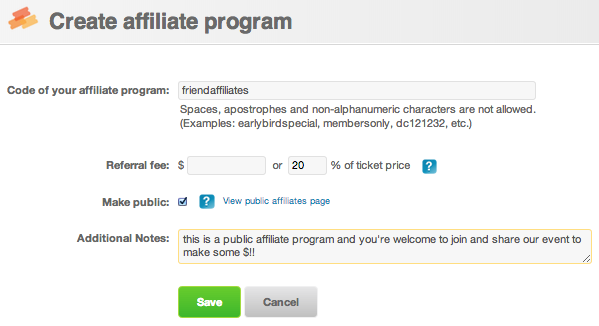 First of all log into your Eventbrite Management Dashboard, which should be available when you log in if you've created an event. You should have these options to the left. Click on the "Affiliate Programs" link and click the green button that says "Create a new affiliate program."
It should bring up a screen that allows you to input a code as well as add a referral fee or % of ticket price. You can make it public if you'd like your event to possibly be picked up by local promoters and add a few notes that the affiliate will see. Save it.
If you click on the link of your affiliate name, you should be able to see a link. Copy that link and forward it to your employees in an email that sounds something like this…
"You're invited to become an affiliate of our event and receive 20% of all of your ticket sales when people use your link to view and pay for this event. Please sign up for PayPal to get paid. To accept this invitation to become an affiliate, please visit this link and sign up to receive your customized web address. Your referrals MUST use your individualized link in order for you to be paid, so please post everywhere, such as Facebook, Twitter, LinkedIn, Google+, your blog, etc."
….
Now let's look at it from the standpoint of your future affiliate.